You Keep Control
Keeping within your budget can be a monumental task. With requests for new titles coming in on a regular basis you have to keep careful track of the bottom line or it can rapidly balloon out of control. By having Emery-Pratt quote your orders you will know your costs ahead of time. With this information you can better utilize your funds and still get the materials you need for your collection.
Ease of Use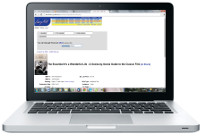 Select - Click - Send. It's just that easy. Select the titles you want from our online database of over 9 million records. Click and add them to your quote bag. Then send them to Emery-Pratt. Once they are received they will be processed and a quote returned to you for approval.
To get Started
For more informaton about online quotes contact Customer Service at 800 248-3887, email customer.service@emery-pratt.com, or contact your Emery-Pratt Account Manager.